St. Anne's Open Evening: Monday 3 October 2022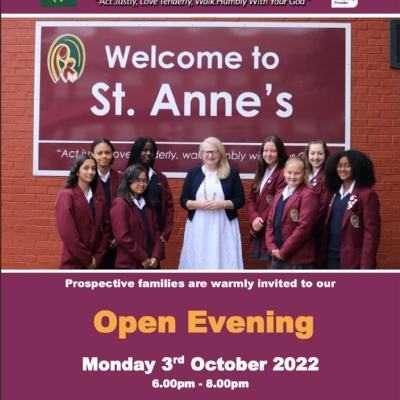 Open Evening for Year 7 Admissions in September 2023
Come along to our Open Evening to meet with staff & students, and hear from the Headteacher about life at St. Anne's.
Date: Monday 3 October 2022
Time: 6.00 – 8.00pm
Location: St. Anne's Catholic High School for Girls, Lower Site, 50 London Road, Enfield, EN2 6EL
We are extremely delighted to welcome prospective families on site. Our Open Evening will provide you with an insight into all areas of our school, so you can get a sense of what life at St. Anne's is all about.

Open Mornings
You may wish to tour the school during the working day, and for this we have two Open Mornings where prospective students and families are welcome on site
Dates: Thursday 6 & Friday 7 October 2022
Times: 09.15 - 10.30 & 11.30 - 12.45
Location: St. Anne's Catholic High School for Girls, Lower Site, 50 London Road, Enfield, EN2 6EL