Runners Up: Caritas 'Love in Action' Awards 2022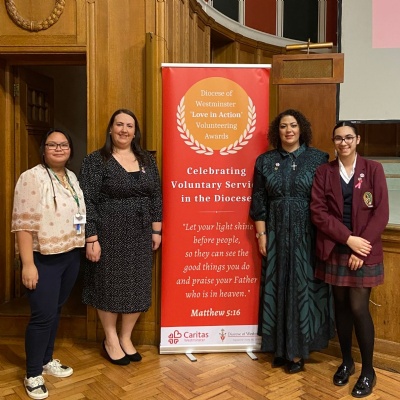 For our Community Outreach work, we were nominated for a Caritas Westminster 'Love in Action' Volunteering Award 2022.
We were delighted to be shortlisted as finalists by the panel, and are proud runners-up in the category: School Social Outreach Award. 🤩
We would not have been able to continue this work without our Staff, Governors, Friends and Student Volunteers, and for that we are truly grateful. Thank you for your continued support and time. With this we have been able to offer direct support to hundreds of people across Enfield and Haringey (and more) with our Family Food Support Programme.
We were also able to gather support from our school community and those locally to donate much needed items to those suffering in Ukraine during Feb - April 2022.
Thank you to everyone who has supported our work and taken part. Many hands make light work indeed, and we are pleased to continue this work to support our school and local community.