Catholic Life
ABOUT ST. ANNE
As a Catholic School we are greatly inspired by our patroness, St. Anne, the mother of Mary. There are strong links with St. Anne and education as the tradition is that it was St. Anne who taught Mary to read. However, when we reflect on this tradition we think not just of education in the sense of learning to read or passing exams, but also in terms of faith.
St. Anne taught Mary about the goodness of God, and so she is an excellent example for us of someone who, by her example of faith, inspires others to trust in God too. We recognise our dependence on God for all that we have and achieve, and it is this ethos that permeates everything we do in school.
SCHOOL PRAYER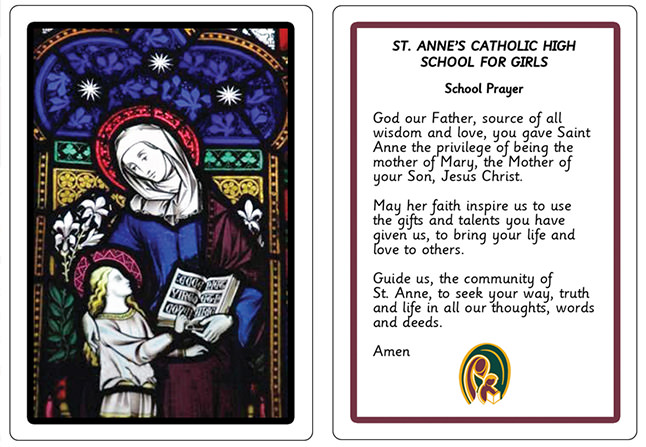 SCHOOL HYMN: HUMBLY WALK WITH YOU
Our school hymn, based on Micah 6:8, beautifully reflects our understanding of our school motto, our purpose and what is important for our community. Dependence on God, faithful service, justice and hope are at the heart of our school and through this hymn we pray we will be "strengthened in faith and guided by love".
Our bespoke hymn is particularly special and personal to us as it is written by Marsha Morrison, our Gospel Choir Conductor.